Botanical Skin Care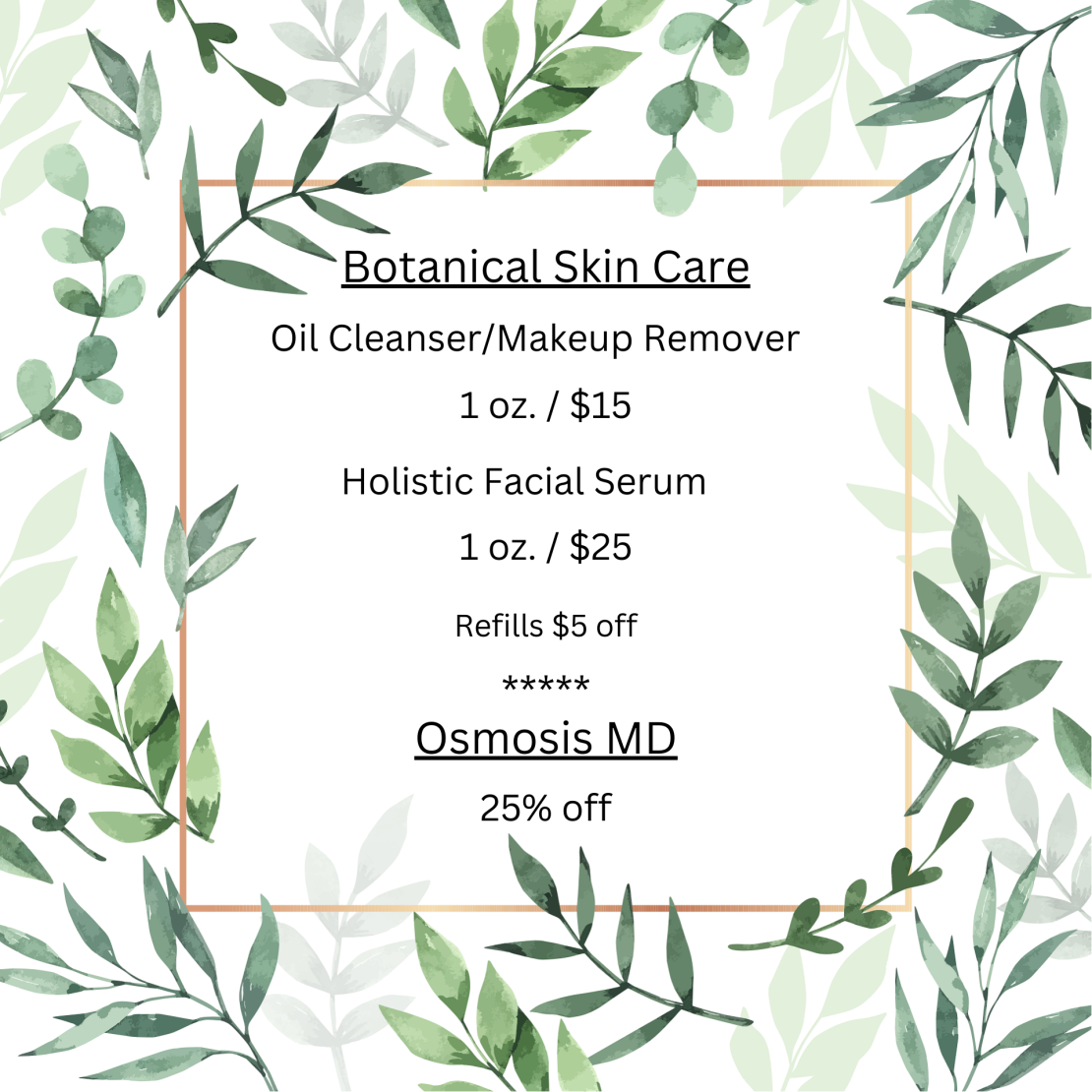 Organic Jojoba Oil infused with Calendula and Lavender
1 oz. / $15

Jojoba Oil - Natural antioxidants and antibacterial properties, plus fatty acids and vitamins. Suitable for all skin types and particularly beneficial for dry and aging skin.

Calendula - Antimicrobial, anti-inflammatory, contains natural antioxidants and fatty acids. Helps reduce sensitivity, soothes irritation, effective in wound healing, damaged or problem skin. Particularly beneficial for mature, dry, damaged, irritated, presenting eczema, acne, rosacea skins.

Lavender - Antiseptic and anti-inflammatory, useful for burns, rashes, irritated and damaged skin. It has regenerating properties and is used for reducing wrinkles, scarring, and stretch marks.

Have you tried Oil Cleansing yet? Once you do, you will never go back to those horrible makeup wipes!
Holistic Facial Serum
1 oz. / $25

Avocado Oil = Very nutritive oil, with high levels of Vitamins A, D, & E. Especially good for dry, mature, and aging skin.

Rosehip Oil = Exceptionally healing for damaged, dry, or prematurely aged skin. Considered a superior skin care oil used for revitalizing tired and aids in cell regeneration.

Apricot Kernel Oil = Light, non-oily feel suited for sensitive and mature skin.

Jojoba Oil = One of the most highly prized in natural skin care products because of its similarity to human sebum and its ability to moisturize skin.

Skin Care Blend of Organic Essential Oils = Lavender, Frankincense, Helichrysum, and Carrot Seed.
Use the Oil Cleanser/Makeup Remover followed by the Holistic Facial Serum both morning and night.
Great for all skin types!
All holistic, not toxic, and wonderful, glowing results!!
Made in-house.
Refills $5 off