Botanical Skin Care
Pure | Clean Beauty | Natural Skincare
All Botanical Skincare are made in-house with only organic and/or ethically and sustainably grown ingredients.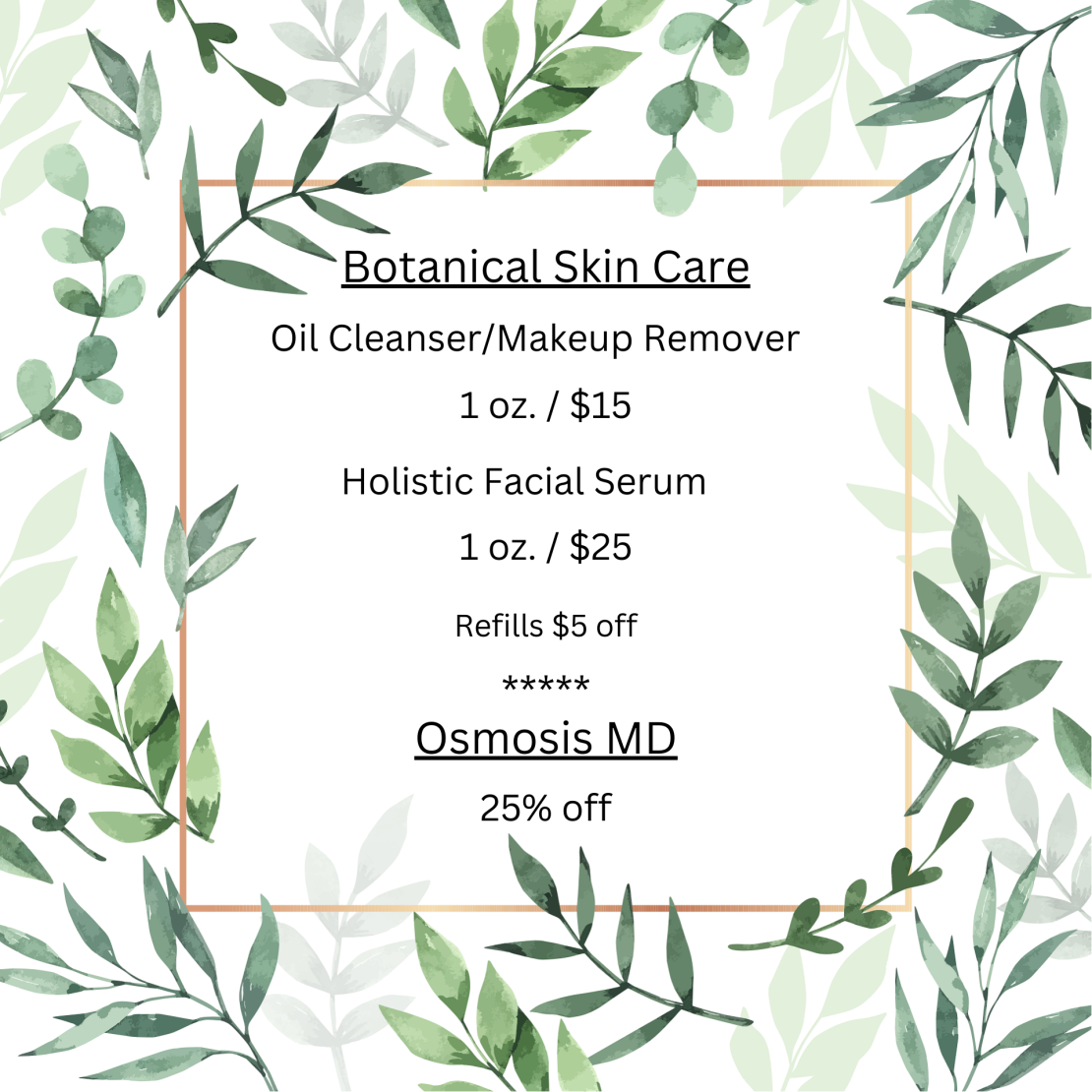 Oil Cleanser/Makeup Remover
1 oz. / $15
4.22 oz. / $30
Organic Jojoba Oil infused with Calendula and Lavender
Jojoba Oil - Natural antioxidants and antibacterial properties, plus fatty acids and vitamins. Suitable for all skin types and particularly beneficial for dry and aging skin.

Calendula - Antimicrobial, anti-inflammatory, contains natural antioxidants and fatty acids. Helps reduce sensitivity, soothes irritation, effective in wound healing, damaged or problem skin. Particularly beneficial for mature, dry, damaged, irritated, presenting eczema, acne, rosacea skins.

Lavender - Antiseptic and anti-inflammatory, useful for burns, rashes, irritated and damaged skin. It has regenerating properties and is used for reducing wrinkles, scarring, and stretch marks.

Have you tried Oil Cleansing yet? Once you do, you will never go back to those horrible, chemical-filled makeup wipes! Organic Jojoba oil removes makeup naturally from the face and eye area, while nourishing the skin at the same time!
Holistic Facial Serum
1 oz. / $25

Avocado Oil = Very nutritive oil, with high levels of Vitamins A, D, & E. Especially good for dry, mature, and aging skin.

Rosehip Oil = Exceptionally healing for damaged, dry, or prematurely aged skin. Considered a superior skin care oil used for revitalizing tired and aids in cell regeneration.

Apricot Kernel Oil = Light, non-oily feel suited for sensitive and mature skin.

Jojoba Oil = One of the most highly prized in natural skin care products because of its similarity to human sebum and its ability to moisturize skin.

Skin Care Blend of Organic Essential Oils = Lavender, Frankincense, Helichrysum, and Carrot Seed.
Directions: Use the Oil Cleanser/Makeup Remover followed by the Holistic Facial Serum both morning and night.
Both the Oil Cleanser and Facial Serum are great for all skin types!
All holistic, not toxic, and wonderful, glowing results!!
Herbal Body Oils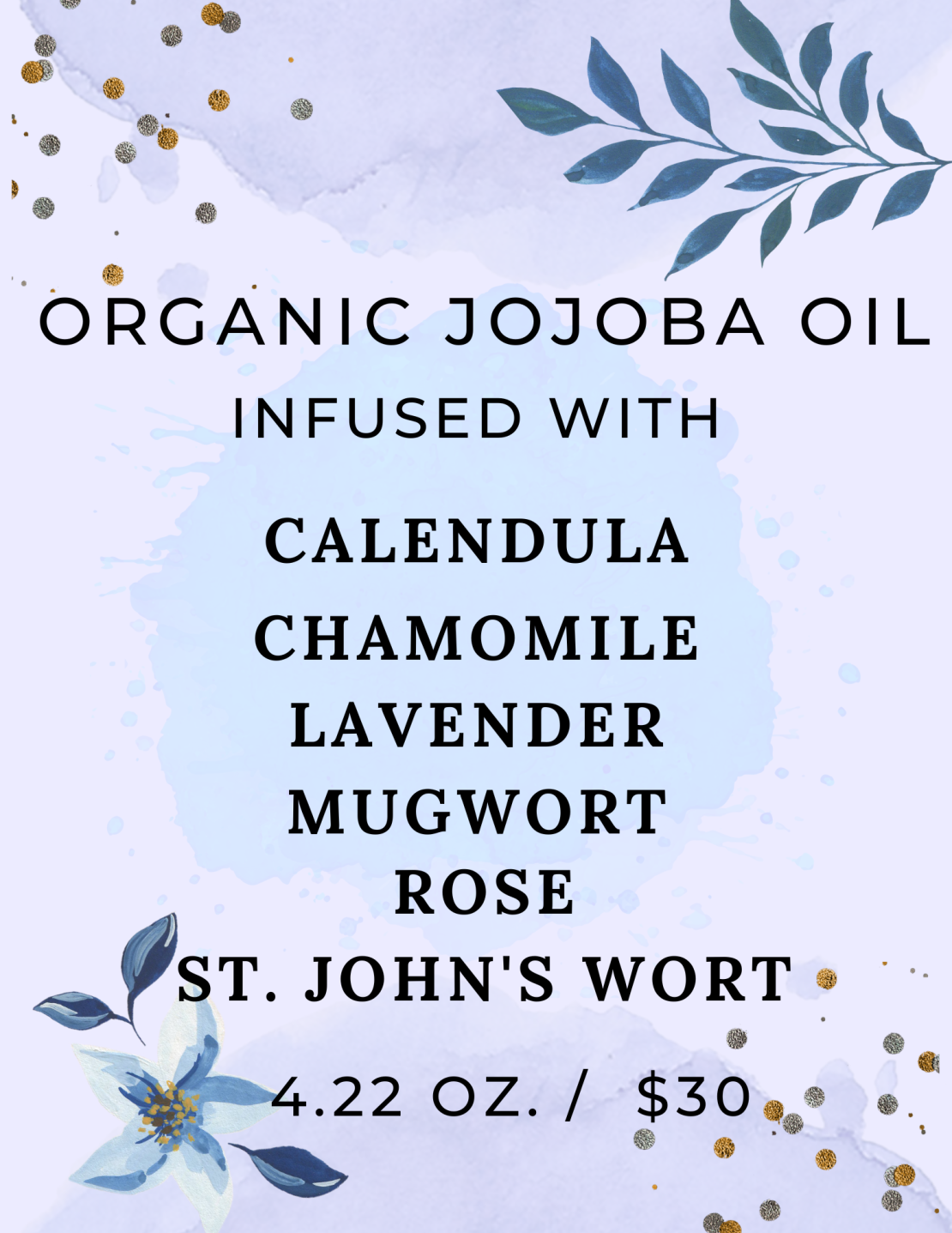 4.22 oz. / $30
Holistic Body Oils are rich in nerve tonic herbs that will help calm tension and anxiety while the Organic Jojoba Oil nourishes your skin. Ingredients are simply Organic Jojoba Oil, Organic and/or ethically and sustainably grown herb, and a few drops of Organic Alcohol for extracting the herb medicinal properties.
Body Care products made from the Herbal Infused Jojoba Oils: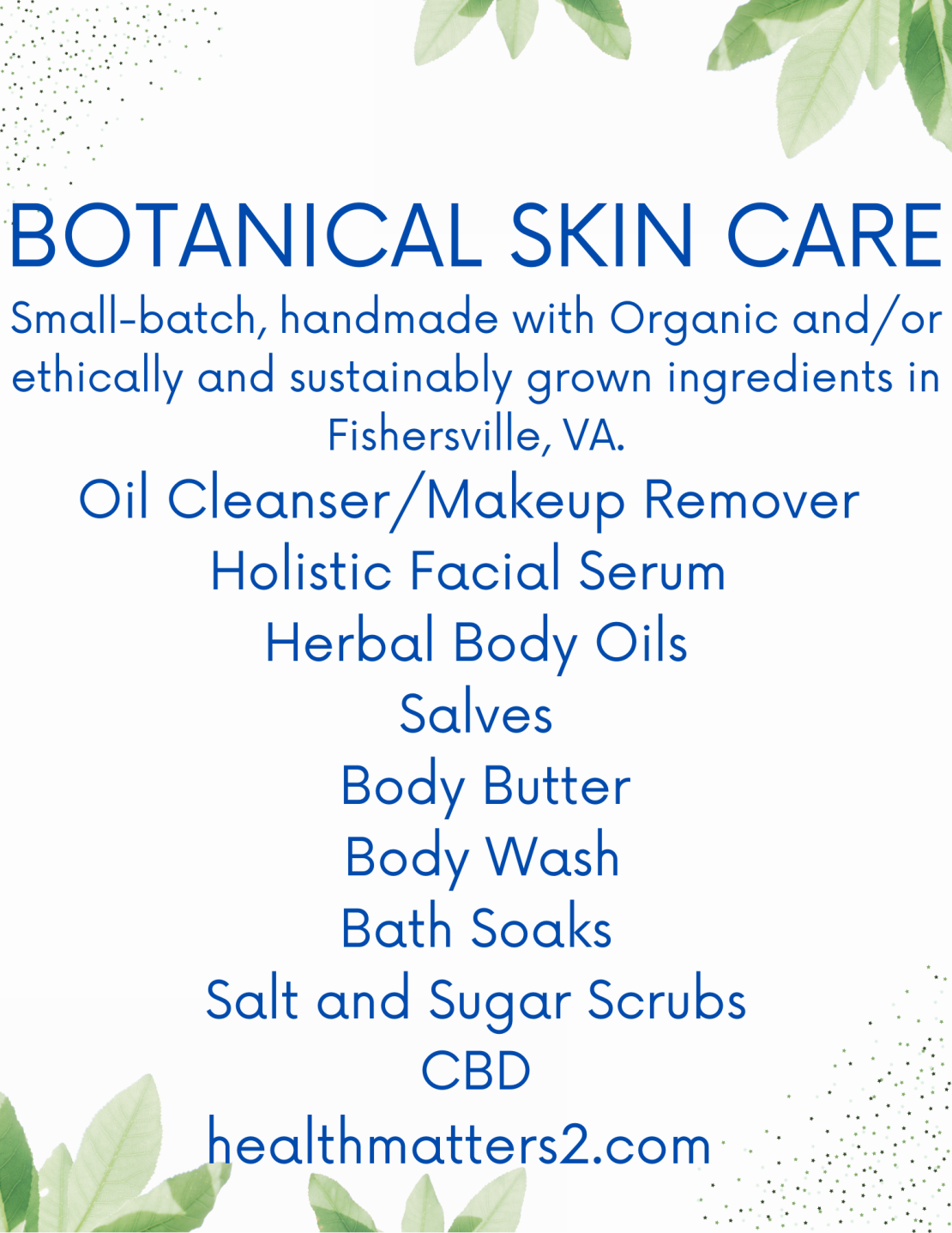 Salves 1oz. / $7 2oz. / $12
-Herbal Infused Organic Jojoba Oil and local Beeswax from Sunrise Farms.
Body Butter 2oz. / $13 4oz. / $25
-Coconut oil, Shea Butter, Cocoa butter, Herbal Infused Organic Jojoba Oil.
Body Wash 8oz. / $25
-Castile soap, local honey, and Herbal Infused Organic Jojoba Oil.
Bath Soak 1.5oz. / $14 7oz. / $48
-Magnesium Sulfate (Epsom Salt), Dead Sea Salt, Pink Himalayan Salt, Sodium Bicarbonate, Rose petals, lavender buds, calendula flowers, and Chamomile Flowers.
CBD 1 oz. / $52 2oz. / $100
-Local Hemp Flowers from York River Cannabis. Decarboxylated and infused in Organic Jojoba Oil in small batches.
This is for topical use only.