Featured Facial of Month!
Pineapple Lychee Facial

$50 (Reg. $65)
As we spend our lazy summer days basking in the warm sun, UV rays go to work robbing our skin of much-needed moisture and prematurely aging our skin. This is the time for a hefty dose of Vitamin C found in the Pineapple/Lychee facial. Both products in this special duo set drench the skin with potent amounts of Vitamin C and hydration. This gentle facial is perfect for treating summer skin as it contains a Summer Complex of SymCalmin®, that reduces heat rash, Vitamin C to which addresses dark spots and Dermasyr10™ to help manage breakouts. This duo set is also vegan friendly.
Pineapple Lychee | Summer Refresher Facial

Pineapple Enzyme: With its distinctive prickly skin, spiky green leaves and sweet yellow flesh, the pineapple is a symbol of hospitality as well as a tasty treat. Like many fruits and vegetables, it can be just as nourishing on the body as in the body. Pineapple contains bromelain, a naturally occurring enzyme, which provides a gentle softening and brightening exfoliation. Feed your client's skin high amounts of Vitamin C that will quench their skin with age-correcting antioxidants which are vital to overall skin health. Vitamin C also offers another layer of protection from the sun's harmful UV rays.

Lychee Nourishing Mask: This delightfully rich and sweet creamy mask contains Lychee a tropical fruit native to low elevation lands of China, Taiwan, and South East Asia. Lychee which means "gift for loyal life" surely lives up to its name. Lychee benefits have been tried and proven in countries such as China and India and have also been well documented in ancient Chinese books.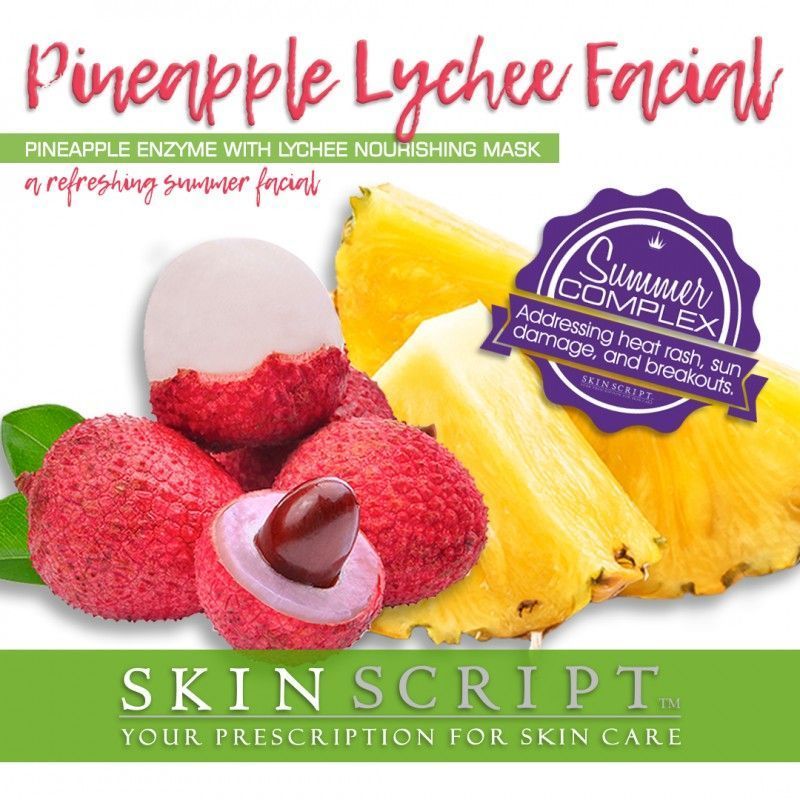 Perfect Summer refresher facial!
---
Skin Script are gentle, but effective, professional products without the use of parabens, harsh sulfates, and chemical fragrances.
VALID NOW through July 31st.
Gift Certificates are available!